Publications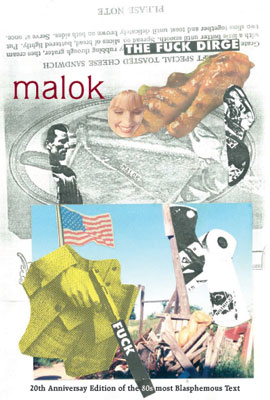 20th Anniversary Edition of the Fuck Dirge
In the spirit of Bern Porter's "Last Acts of Saint Fuck You", Malok's anthem to the end of civilization is a perfect mantra for anyone who is stuck in a traffic jam, fired from work, sick of the holidays....
"MALOK sent me some wild mail-art, plus an interesting little collage/art pamphlet, "Fuck Dirge". Thanks a bunch for this!!! It really made our day. Much slack goes out to Rev. Malok."
download pdf (1.1 mb)
print copies:
8 pages, color, $4 postpaid.
Xerox Sutra Editions
10375 County Hway Alphabet
West Lima, Wisconsin
54639